White Nights Foundation of America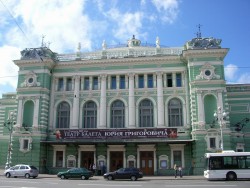 Mr. Sheldon served as Director, Vice Chair, and Executive Committee member of the White Nights Foundation of America, (now the Mariinsky Foundation of America) a New York City based foundation dedicated to the betterment of cultural understanding and awareness and economic interaction between America and Russia and dedicated to supporting the performing ensembles (Kirov Ballet, Opera and Orchestra) of the famed Mariinsky Theatre in St. Petersburg in its activities in the United States.
He led the foundation's three-year reorganization effort, its searches for Executive Directors and created the organization's first newsletter.
The foundation boasted a twenty member board of directors, both American and Russian (including retired CEOs of Citigroup and Pepsico and the Russian Minister of Finance); a seven member Artistic Advisory Board of distinguished international performers (Placido Domingo, Renée Fleming), a stage designer (George Tsypin) and architect (Frank Gehry); and a six member International Board of Distinguished Advisors with leading corporate and political figures from both countries: James Wolfensohn, former President of the World Bank; Henry Kissinger and German Greff, CEO Sberbank, Russia's largest bank. The Foundation made grants totaling between $1,250,000 and $1,750,000 annually.