Baldwin Festival Chorus of New York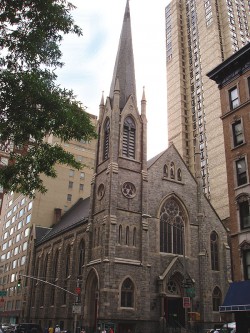 Encouraged by friends to continue the Sheldon Singers after their debut concert in 2005, Mr. Sheldon formed a New York City based chorus which debuted with a Christmas Concert on December 11, 2008 in Immanuel Lutheran Church at 88th and Lexington Ave.
Changing the name from the Sheldon Singers to the Baldwin Festival Chorus of New York, allowed him to honor his teacher and mentor John L. Baldwin, one of the 20th century's great American organists and choral masters, who taught at Hamilton College for nearly 20 years and conducted the University Glee Club of New York for 39 years. Baldwin was beloved by many, inspiring thousands of singers and non-singers alike with his music making, and was a life-long friend to Mr. Sheldon.
Already peopled with 44 singers enrolled for the first concert, the Baldwin Festival Chorus program included works by 16 different composers and was a unique celebration of Christmas, combining Bach and Handel and Berlioz with John Rutter, Charles Gounod, and Don Fraser and centered around an a cappella section with selected "Ave Maria" by Victoria, Parsons, Biebl, Donizetti, and Rachmaninoff and interspersed with favorite 20th century a cappela anthems by Benjamin Britten, Healy Willan and Elizabeth Poston.
The Baldwin Festival Chorus now performs annually in New York on the first Fridays of May and December. Their enormous repertoire has included several world premieres including an Oratorio by Martin Sedek on the text of Pope Francis' 2015 sermon at Madison Square Garden. This 35 minute oratoria featured chorus, children's chorus, baritone soloist, violin soloist and organist.
Other premieres included choral settings of Bob Dylan Songs by Steve Hackman and a 2019 premiere based on the words and life of Emilia Bassano Lanier, a 16th/17th century contemporary of Shakespeare, an important feminist.